We undertake many types of metal work, if the service you need is not listed please feel free to call us on 01582 883388 or email us at info@projectmetalcraftltd.co.uk
Made to Measure Gates or Railings
Are you looking for made to measure gates or railings? Do you have your own ideas and would like us to make them real?
Call us to arrange a meeting at your property where we will talk through your ideas and present to you what is available and what can be done. We can show you our portfolio of jobs and find the best design to suit your needs.
All our jobs are made in-house and are supplied painted and fitted. For more information please feel free to call us on 01582 883388 or email us info@projectmetalcraftltd.co.uk
Classic car restoration
All classic car restoration is bespoke, we can fabricate new panel work, cut the old metalwork out and weld new fabricated metalwork back should you be unable to find existing pattern parts.
We specialise in making new chassis for older cars including Jaguar C types and other classics. We can build you chassis into a fully working car.
We can also weld MOT failures.
Mobile welding services
We have mobile welding equipment which we can transport to your site, this includes MIG and TIG welding. We can now do aluminium welding on site, also we can repair cracked alloy wheels
Prototype work
Do you have a sketch, drawing or just and idea that you want to see transformed into metal. Project Metalcraft can turn your idea into reality no matter how big, small or weird.
General sheet metal work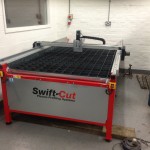 Project Metalcraft can turn engineering drawing to work from to a specific tolerance using our CNC plasma cutter which cuts up to 10mm thick mild steel, 8mm aluminium and 8mm stainless steel. This can usually be small batch work, fabricating blanks, forming, welding and cleaning. We can also provide powder coating and have your products painted if required.
For more information please feel free to call us on 01582 883388 or email us info@projectmetalcraftltd.co.uk